Madison Square Garden | Manhattan, New York
Recognised as one of the world's greatest singers and best-selling classical artists, Andrea Bocelli will be performing at Madison Square Garden on Wednesday 18th December 2019 for the first of two back-to-back shows! The legendary tenor will sing a variety of songs from his illustrious career, traversing many genres including opera and pop! Join the Maestro for this very special show at one of the world's most prestigious venues!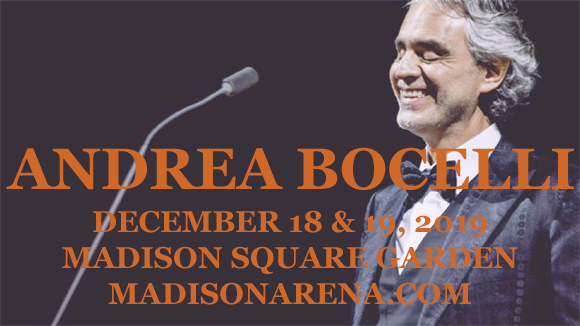 Italian opera singer, songwriter, and record producer Andrea Bocelli is one of the world's most successful and renowned classical-crossover artists. Bocelli's breakthrough came in 1993, when he was invited to record a demo for Italian rock star Zucchero's song "Miserere" to send to Pavarotti. Pavarotti was so impressed that the three artist recorded the song together and it became an international hit. Since his debut, Bocelli has recorded 15 solo studio albums of several genres, three greatest hits albums, and nine complete operas, selling over 90 million records worldwide. The recipient of several awards and accolades throughout his career, he was made a Grand Officer of the Order of Merit of the Italian Republic in 2006 and was honored with a star on the Hollywood Walk of Fame on 2 March 2010 for his contribution to Live Theater.