Madison Square Garden | Manhattan, New York
Everybody's favorites the Jonas Brothers are coming LIVE to Madison Square Garden on Friday 30th August 2019! After a six year hiatus the amazing Brother Trio RETURN for an exclusive, world tour! As they have dropped their latest release back in May 2019 – Jonas Brothers are more than ready to play it live and bring their previous songs to the stage! Get ready for a mind-blowing experience this summer! Tickets on sale right here – book in advance to garuntee a place in the crowd!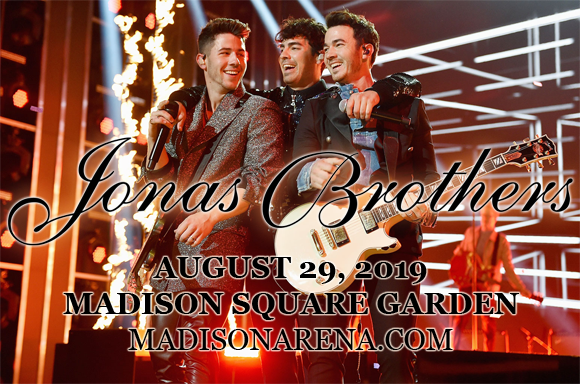 The American pop rockers are back on the road for 2019 and Jonas Brothers cannot wait for this exciting dream to come true! The Jonas Brothers have had a successful run since their formation all the way back in 2005 when they appeared on the hit Disney Channel, but that was only the beginning for this family trio as they transformed their career into a live performance, touring the world, as well and recording and releasing albums and hit singles along the way!
In 2008, Jonas Brothers gained the nomination for Best New Artist award at the 51st Grammy Awards and won the award for Breakthrough Artist at the American Music Awards. During this time their band was elevated into the mainstream and were the center of attension in pop music. Now to this day, Jonas Brothers have had nothing but impressive, mind blowing record sales with over 17 million albums sold worldwide!
With their non-stop fame and touring, Jonas Brothers decied to take a break for the last six years and in 2019 the announcement that fans have been waiting for is now here! Jonas Brothers return with a groundbreaking new release of "Sucker" which came out in the Spring this year and smashed the charts, hitting the number one spot on the Billboard Hot 100!
It's been a long, hard wait for their dedicated following but the time has NOW arrived! Book your tickets for the Jonas Brothers as they take to the stage once again for an out of this world performance, tipped to be one of the biggest, quickly selling tours of the entire year! Come and be a part of something very special!