Madison Square Garden | Manhattan, New York
Back due to insanely popular demand, The Original Misfits at Madison Square Garden on Saturday 19th October 2019! A once-in-a-lifetime opportunity to see the horror punks in action, this show will be one of the last they will perform together, so don't sleep on those tickets!
"With the Misfits thing, we just kinda got back together and just decided we'd do it here or there, and just not make it a grind kinda tour," Danzig told Full Metal Jackie. "We just want to make each event special. We're not gonna do many more. I know we just announced Seattle and Denver, but I'm pretty sure there's not gonna be many more of them."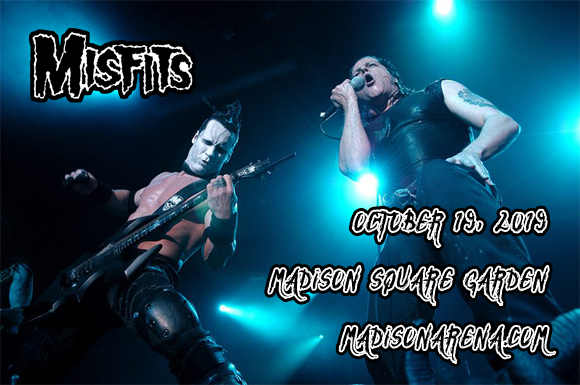 Widely regarded as the inventors of the horror punk genre, Misfits are an American punk rock band that formed in 1997, in Lodi, New Jersey. Their first two albums, Walk Among Us (1982) and Earth A.D./Wolfs Blood (1983), were the benchmark for the hardcore punk movement of the late-1980s, inspiring a legion of future punk rock acts. The group dissolved in 1983, although in the following years, various band members fought to use the name, leading to several disputes and legal battles. In 2016, the band's classic line-up of vocalist and keyboardist Glenn Danzig, bassist Jerry Only and guitarist Doyle Wolfgang von Frankenstein reunited, and performed together as a unit for the first time in 33 years, alongside former Slayer drummer Dave Lombardo and Murderdolls guitarist Acey Slade. The reunited band continues to tour regularly, playing a select number of shows each year.