Madison Square Garden | New York, New York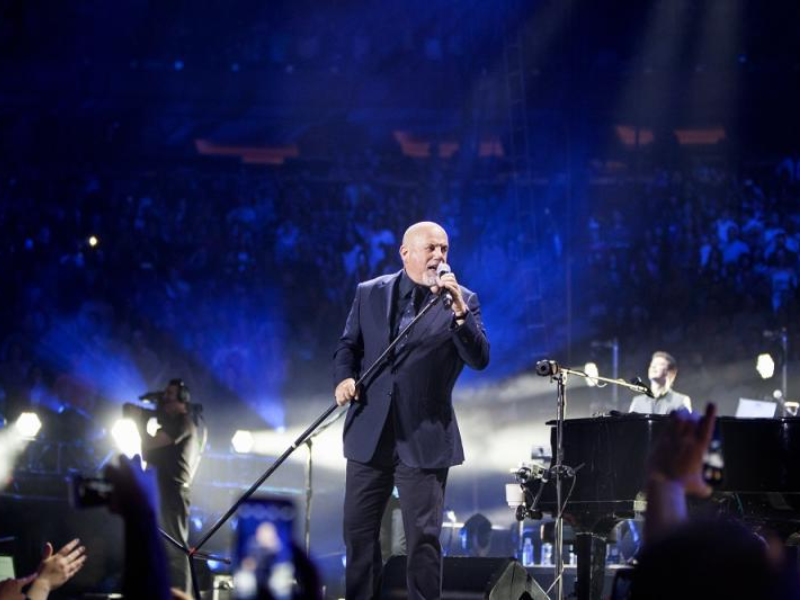 Watch one of Billy Joel's final shows at Madison Square Garden on Thursday, January 11th, and celebrate ten years of live musical marvel. Since 2014, the Grammy Legend has performed monthly at NYC's premier entertainment arena. He has set and broken venue records and is now aiming for his 150th sold-out concert this coming July. Billy Joel is a name synonymous with GREATNESS. The pianist-songwriter conquered much of the late 1970s after the release of his fifth album, "The Stranger." Since then, he broke ground countless times through his genre-spanning work, from rock to jazz to blues. His songs–frequently Billboard-breaking smash hits–are some of the most astounding tunes to grace the airwaves, which include tracks such as "Uptown Girl" and "We Didn't Start the Fire." America's most illustrious stage, Madison Square Garden, presents the perfect backdrop for the music icon's farewell countdown with its superlative acoustics and concert facilities. Book your seats today!
Even the best things come and go, so let's all say goodbye with a bang! In ten countdown performances, Billy Joel will conclude his residency at Madison Square Garden in the following months. Catch him LIVE this January 11th and celebrate a decade of awe-inspiring music from America's one-and-only Piano Man.
Come his final act in July, the beloved singer-songwriter will have again broken his record with a 150th-lifetime concert at the distinguished arena. Billy Joel has been playing every month here since the start of 2014, selling over 1.6 million tickets and nary a vacant seat. Commemorating his 100th performance, then-governor Andrew Cuomo proclaimed July 18th "Billy Joel Day."
This piano-playing superstar has been the idol of many generations since the 1970s. He released "The Stranger," his fifth album, in 1977, to critical acclaim, propelling him to heights never before climbed. His work delves into a wide vista of genres (pop-rock, jazz, blues, etc.), manifesting into timeless jukebox hits like "Tell Her About It" and "We Didn't Start the Fire."
Apart from six Grammy Award wins–including a 1991 Grammy Legend Award–the esteemed artist also enjoys three major Hall of Fame inductions. These include "Songwriters" in 1992, "Rock and Roll" in 1999, and "Long Island Music" in 2006.
Official setlists are still kept a surprise. For a potential sneak peek, see below for Joel's most recent concert at The Garden.
Miami 2017 (Seen the Lights Go Out on Broadway)
My Life
Vienna
The Downeaster Alexa
Start Me Up (The Rolling Stones cover)
Jumpin' Jack Flash (The Rolling Stones cover)
An Innocent Man
Barbara Ann (The Beach Boys cover)
The Longest Time
Your Song (Elton John cover)
Don't Ask Me Why
Allentown
Half a Mile Away
Movin' Out (Anthony's Song)
She's Always a Woman
The Entertainer
New York State of Mind
Zanzibar
Sometimes a Fantasy
Only the Good Die Young
The River of Dreams
Nessun dorma (Giacomo Puccini cover)
Scenes From an Italian Restaurant
Piano Man
ENCORE
We Didn't Start the Fire
Uptown Girl
It's Still Rock and Roll to Me
Big Shot
You May Be Right
NYC's Madison Square Garden will be the series epicenter from October this year to July the next. As "The World's Most Famous Arena," the venue offers nothing short of world-class amenities. Culturally diverse concessions. Cascading rows of deluxe seats. State-of-the-art staging facilities. For every concert feature you can imagine, the MSG has two more in store!
"Billy Joel's franchise run has made history – not only for Madison Square Garden but also for the music industry overall. 150 sold out lifetime shows is a remarkable achievement, and speaks to Billy's extraordinary talent, beloved catalog, and dedicated fanbase," CEO James Dolan stated.
Join Billy Joel LIVE in one of his last hurrahs on Thursday, January 11th, 2024, here in The Big Apple. Seats are filling up fast - reserve yours ASAP!