Madison Square Garden | New York, New York
"Piano Man" Billy Joel performs once more at Madison Square Garden on Friday 15th November 2019 for the last show this year of his unprecedented residency! The six-time Grammy Award-winning singer-songwriter fills each show with a unique selection of classic radio hits, more obscure tunes and covers, as well as audience participation and plenty more surprises! Make sure you don't miss your chance to see this consummate performer live!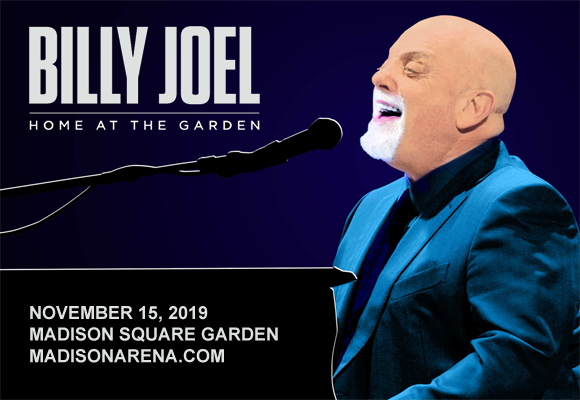 American singer-songwriter, composer and pianist Billy Joel began his music career in the 1960s as part of rock groups The Hassles and The Attila, before embarking upon a solo career with the release of his 1971 album Cold Spring Harbor. In 1972, Joel signed to Columbia Records and released his second studio album, Piano Man, on the label later that year. The album introduced Joel to a mainstream audience, launching the singles "Travelin' Prayer" and "Worse Comes to Worst," as well as its title track, which peaked at number 25 on the US Billboard Hot 100 and number four on the Adult Contemporary singles chart, and became Joel's signature song. Joel's breakthrough album was 1977's The Stranger, which became Columbia's best-selling release, selling over 10 million copies and producing several hit singles, including "Movin' Out (Anthony's Song)", "Just the Way You Are", "Only the Good Die Young", and "She's Always a Woman". Throughout his career, Joel has produced 33 Top 40 hits in the US, all of which he wrote himself, including three number ones. He has won six Grammy Awards from 23 nominations and has been inducted into the Songwriters Hall of Fame (1992), the Rock and Roll Hall of Fame (1999) and the Long Island Music Hall of Fame (2006). He received the Johnny Mercer Award from the Songwriters Hall of Fame in 2001, and in 2013, Joel received the Kennedy Center Honors, the nation's highest honor for influencing American culture through the arts. Having sold over 150 million albums worldwide, Joel is the world's sixth best-selling recording artist of all time, and the third best-selling solo artist in the United States.