Madison Square Garden | New York, New York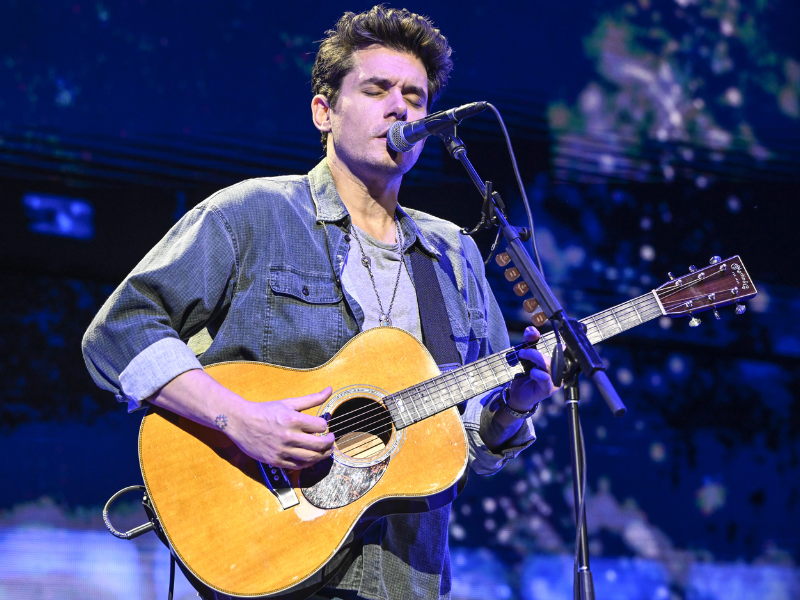 On October 4, John Mayer will ascend to the Madison Square Garden's stage for the fall reopening of his first solo acoustic tour! In response to the overwhelming acclaim for his concert stint last spring, the multi-awarded artist scheduled twenty-two more US shows before transitioning to the European circuit. The Big Apple's Madison Square Garden will host this event, offering its world-class stage fitted with the latest audio-visual technologies. John Mayer, an eight-time Grammy Award winner, molded the acoustic scene into his image with songs that defined the 2000s. His classics ("Your Body Is a Wonderland," "Waiting on the World to Change," etc.) showcases the star's impeccable command over brass string, with an instantly entrancing blues imprint to his pop-rock arrangements. In this two-hour musical session, fans can expect Mayer's best and brand-new hits played through exquisite guitar and piano solos with guest artist JP Saxe. Buy your tickets NOW!
John Mayer, the Grammy Award-winning acoustic legend, is claiming the Madison Square Garden for his first-ever solo tour on October 4th, with special guest JP Saxe!
"Mayer gave everything one could ask for from a solo performer. He was disarmingly open, pouring himself into several songs as if his life depended on it."
Ending his spring concert series to thunderous applause, John Mayer announces a fall continuation with twenty-two shows to date before going global in 2024. The new leg will kick off in NYC with a two-day outing at Madison Square Garden.
Dubbed a "New Guitar God" by Rolling Stone, John Mayer injects Clapton-esque string work in his blues-infused pop-rock compositions. He has been defining the acoustic music scene since the early 2000s with singles like "Your Body Is a Wonderland" and "Waiting on the World to Change." This fall, in a special two-hour event, the singer-songwriter will treat his fans with classic hits, newer ones, and never-before-heard samples, "all on acoustic, electric, and piano."
"So I would say, like six months ago, I wasn't sure what my next move was. I wasn't going to retire. I wasn't going to disavow all this stuff. I just didn't know. It was a lot of scratching my head like, 'What's the next thing?' The point I'm trying to make is: This tour changed everything."
John has seven Grammy Awards, including four wins in the "Best Male Pop Vocal Performance" category. Across eight studio albums and over two dozen singles, the artist achieved several multi-platinum certifications and Billboard 200 placements. In 2015, he joined forces with former Grateful Dead members to form Dead & Company, which concluded its final tour last July.
His opening act, JP Saxe, is a Grammy-nominated Canadian musician best known for his multi-platinum single "If the World Was Ending" feat. Julia Michaels. He also recently released "I Don't Miss You," a heart-wrenching hit co-written with our headlining artist.
Here's the complete set list from Mayer's closing performance in spring for an idea of what to expect in his upcoming shows.
ACOUSTIC
Slow Dancing in a Burning Room
Heartbreak Warfare
Love on the Weekend
XO (Beyoncé cover)
Neon
On the Way Home
Who Says
Last Train Home
Something Like Olivia
Drifting
In Your Atmosphere
PIANO
New Light
You're Gonna Live Forever in Me
I Will Be Found (Lost at Sea)
Changing
ACOUSTIC
Stop This Train
The Age of Worry
Covered in Rain
Your Body Is a Wonderland
3×5
Walt Grace's Submarine Test, January 1967
DOUBLE NECK ACOUSTIC
Friend of the Devil (Grateful Dead cover)
If I Ever Get Around to Living
Edge of Desire
ENCORE
Born and Raised
Free Fallin' (Tom Petty cover)
One of the world's premier multi-purpose arenas, Madison Square Garden delivers the deluxe concert experience with its top-of-the-line sound and lighting facilities and a storied stage that played host to the BIGGEST entertainment acts of the last century.
Let the past and present slip away as John Mayer serenades you into complete bliss on his solo tour's second day at the Madison Square Garden on Wednesday, October 4th. Book your tickets now and see the guitar prodigy LIVE!