Madison Square Garden | New York, New York
Red Hot Chili Peppers comes to Madison Square Garden on Friday 17th February 2017 for the second in a three-night-stand on the Getaway Tour! Red Hot Chili Peppers will be hitting the road again and serving up everything you know and love about these funk rockers – and maybe some surprises too – don't miss out!!!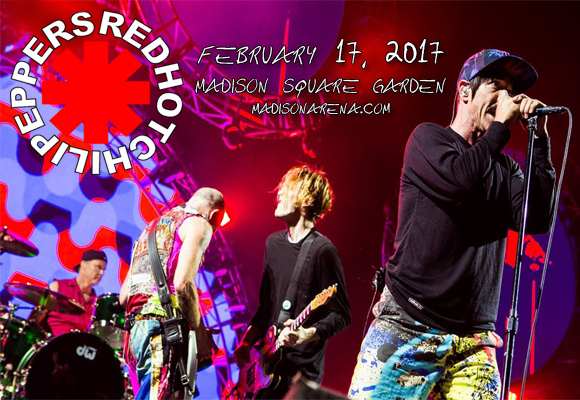 Consisting of founding members Anthony Kiedis (vocals) and Flea (bass), longtime drummer Chad Smith; and guitarist Josh Klinghoffer, who joined in late-2009, replacing longtime guitarist John Frusciante, American funk-rock band Red Hot Chili Peppers is one of the best-selling bands of all time, having sold over 80 million records worldwide. The Red Hot Chili Peppers, their debut album, was released in 1984 to moderate success, but they had their mainstream breakthrough with 1991's Blood, Sugar, Sex, Magick, which brought the band huge chart success with the singles "Give It Away," "Under the Bridge", "Breaking the Girl" and "Suck My Kiss." To date, the band has earned 16 Grammy Award nominations and 6 wins, as well as holding records for most number one singles (13), most cumulative weeks at number one (85) and most top-ten songs (25) on the Billboard Alternative Songs chart. They were inducted into the Rock and Roll Hall of Fame in 2012, and released their eleventh studio album, The Getaway, on June 17, 2016.