Madison Square Garden | New York, New York
The king of the mockumentary Ricky Gervais comes to Madison Square Garden on Friday 15th May 2020 on his brand new SuperNature stand-up tour! Joining us for the second night in a row, the British comedian, TV actor, writer, director and film star will be delivering his unabashed, no-holds-barred comedy, guaranteed to have you in stitches!
"My next tour, #SuperNature, looks at the absurdity of superstition, magic and all unsubstantiated beliefs, and celebrates the conclusion that Nature is already Super enough."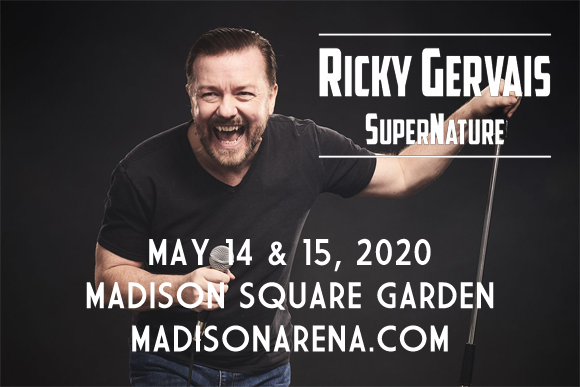 After a short-lived career in the music industry, English stand-up comedian, actor, director, screenwriter, and singer rose to fame in 2001 with his BBC television mock documentary series The Office, having begun work in stand-up and TV comedy writing in the 1990s. Gervais starred as David Brent in the series, which he co-wrote and co-directed with frequent collaborator Stephen Merchant. In 2005, he co-wrote and co-directed with Merchant again to create the TV comedy show extras, which he also starred in as Andy Millman. Gervais has performed five multi-national stand-up comedy tours, and in 2002 he created the Ricky Gervais Show podcast, alingside Stephen Merchant and Karl Pilkington. He has also starred inseveral Hollywood films, including Ghost Town, the Night at the Museum trilogy, For Your Consideration and Muppets Most Wanted, and he wrote, directed and starred in The Invention of Lying and the Netflix-released Special Correspondents. To date, Gervais has won seven BAFTA Awards, five British Comedy Awards, two Emmy Awards, three Golden Globe Awards and the 2006 Rose d'Or.