Madison Square Garden | New York, New York
A show that will go down in the annals of heavy metal history comes to Madison Square Garden on Saturday 9th November 2019 as the mighty Slayer take to the stage with The Final Campaign – their farewell tour after a game-changing 37 year career! Expect a larger-than-life performance with a slew of earth-shattering pyrotechnics and all the Slayer classics, plus a dream support line-up of Primus, Ministry & Philip H. Anselmo at one of the world's most iconic venues! An unmissable event!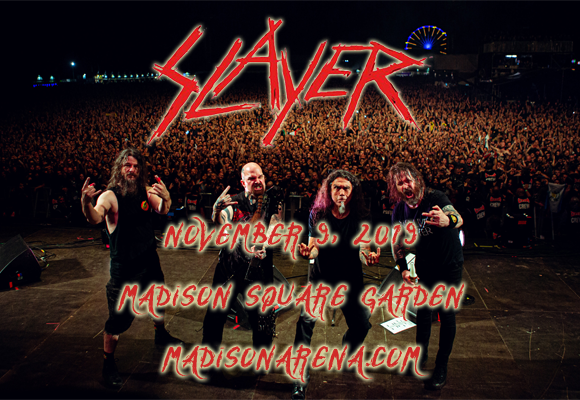 One of metal's most enduring and significant bands, Slayer was formed in 1981 by guitarists Kerry King and Jeff Hanneman. After gaining momentum among the metal community with the release of their first three albums (in the British magazine Metal Forces' 1985 Readers Poll, Slayer was named as best band and best live band, Hell Awaits was named as 1985's best album, and Dave Lombardo as best drummer), the band signed with Russell Simmons and Rick Rubin's newly founded Def Jam Records, beginning a new chapter in their career. The result was 1986's pioneering album Reign In Blood, which has since been lauded as one of the greatest and most influential thrash metal albums of all time. Slayer are often classed alongside Metallica, Megadeth and Anthrax, as one of the "big four" founding bands of thrash, and their legacy can be heard in the music of numerous subsequent metal acts. After 37 years together, 2019 marks the end of Slayer, as they bring their farewell tour – The Final Campaign – to an end.