Madison Square Garden Information
Opened on February 11, 1968, Madison Square Garden is a 20,000 capacity sports and concert arena, located in the New York City borough of Manhattan, above Pennsylvania Station. It was named after James Madison, fourth President of the United States, and is the fourth New York venue to be named Madison Square Garden.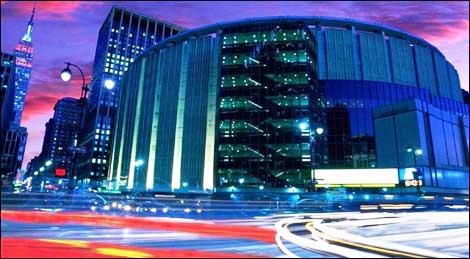 Home to the New York Rangers of the National Hockey League, the New York Knicks of the National Basketball Association, and residency to singer-songwriter Billy Joel, the arena is famous the world over. After an extensive renovation period between 2011-2013, and at a total construction cost of approximately $1.1 billion, Madison Square Garden has been ranked as one of the 10 most expensive stadium venues ever built.
Hosting more high-profile concert events than any other venue in New York City, the Madison Square Garden stage has seen performances from some of the biggest names in music, including: Elvis Presley, Led Zeppelin, The Police, Madonna, U2 and Ariana Grande.
"Madison Square Garden is my favorite venue in the whole world. I chose to have my 60th birthday concert there, because of all the incredible memories I've had playing the venue."
– Elton John
"Madison Square Garden is the center of the universe as far as I'm concerned. It has the best acoustics, the best audiences, the best reputation, and the best history of great artists who have played there."
– Billy Joel