Madison Square Garden | Manhattan, New York
You heard right – Disturbed and Three Days Grace are hitting the road together in 2019 with the massive Evolution North American tour!! With further special guests yet to be announced, they're coming to rock the Madison Square Garden on Monday 25th February 2019 – so don't delay!! Get those tickets before someone else does and be there!!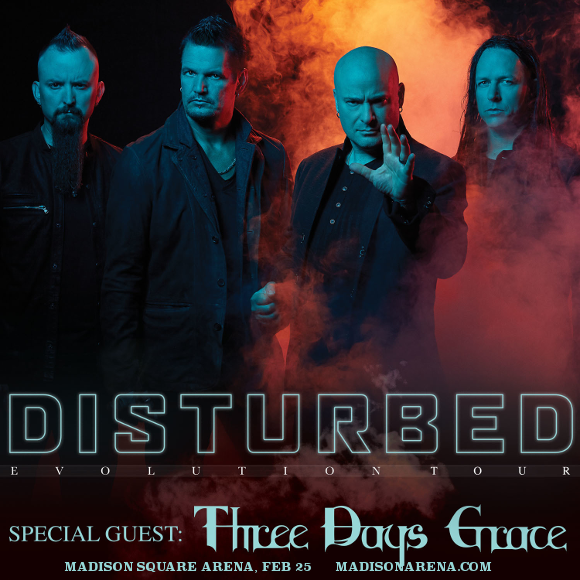 The latest album from 3 Days Grace, "Outsider," is their second to feature singer Matt Walst (brother of current bassist Brad Walst), who took over vocal duties Adam Gontier after the singer left "unexpectedly" – giving Matt Walst a big mantle to carry after his sudden induction into the band. Now he's been with the band for some time, Three Days' Grace's new singer has fully settled in.
"I'm just looking forward to getting out there and playing the songs. Getting on the road again for sure, doing some tours again, singer Matt Walst said in an interview. "I'm really interested in getting this album out. You know, when you spend so much time on it, people have their personal favorites, I'm really interested in seeing what people gravitate to."
By now, you'll know. Gravitate to Madison Square Garden and get ready to hear all your favorites along with songs from the new album on 25th February – have you got your tickets yet??